Ear Muff radio Headset



We Are releasing into the new Zealand and Australian market an inexpensive short range UHF NBFM self contained headset based transceiver, the PHS U1 communicator .
The radios have a maximum capacity of 16 ch, ten of which are programmed with the new Zealand frequencies of the General user radio License (GURL) frequencies as allocated for the 420-480 MHz Allocation . Namely 458.54- 458.61 Mhz and 466.80- 466.850 Mhz
These transceivers are type approved to AS/NZ 4295/ EN 300 086 1-V1.4.1
The radio is power by an internal 3.7v 1100 mA lithium battery ,and is based on the vhf/uhf transceiver lsi integrated circuit RDA1846,
The RDA1846 is a highly integrated single-chip transceiver for Walkie Talkie applications. It totally realizes the translation from RF carrier to voice in the RX path and from voice to RF carrier in the TX path, requiring only one micro controller.The RDA1846 has a powerful digital signal processor, which makes it have optimum voice quality, flexible function options, and robust performance under varying reception conditions.".with an associated RF Amp stage . has an RF output of approximately 350 mW max ,and all transmitted Spurii are below -29 dBm . optional programming cable and associated software enables a programmable Frequency Range: 400~470MHz with any split ! .
-122dBm sensitivity for 12dB sinad , Software adjustable squelch typically-120 dbm, Tx/Rx frequency independent Channel space: 12.5/25KHz and supplied with a 230v AC charging plug pack.
The open line of sight range is much more than a kilometer line of sight , and with a repeater , even greater . The low RFoutput power and the receivers excellent sensitivity give a good compromise between battery life and operational range.
The headset is worn with the spring band at the back of the head and the adjustable vecro strap passing over the top of the head, Its length being adjusted for optimal comfort and fit of the earcups over the ears . This way a hard had can be worn at the same time.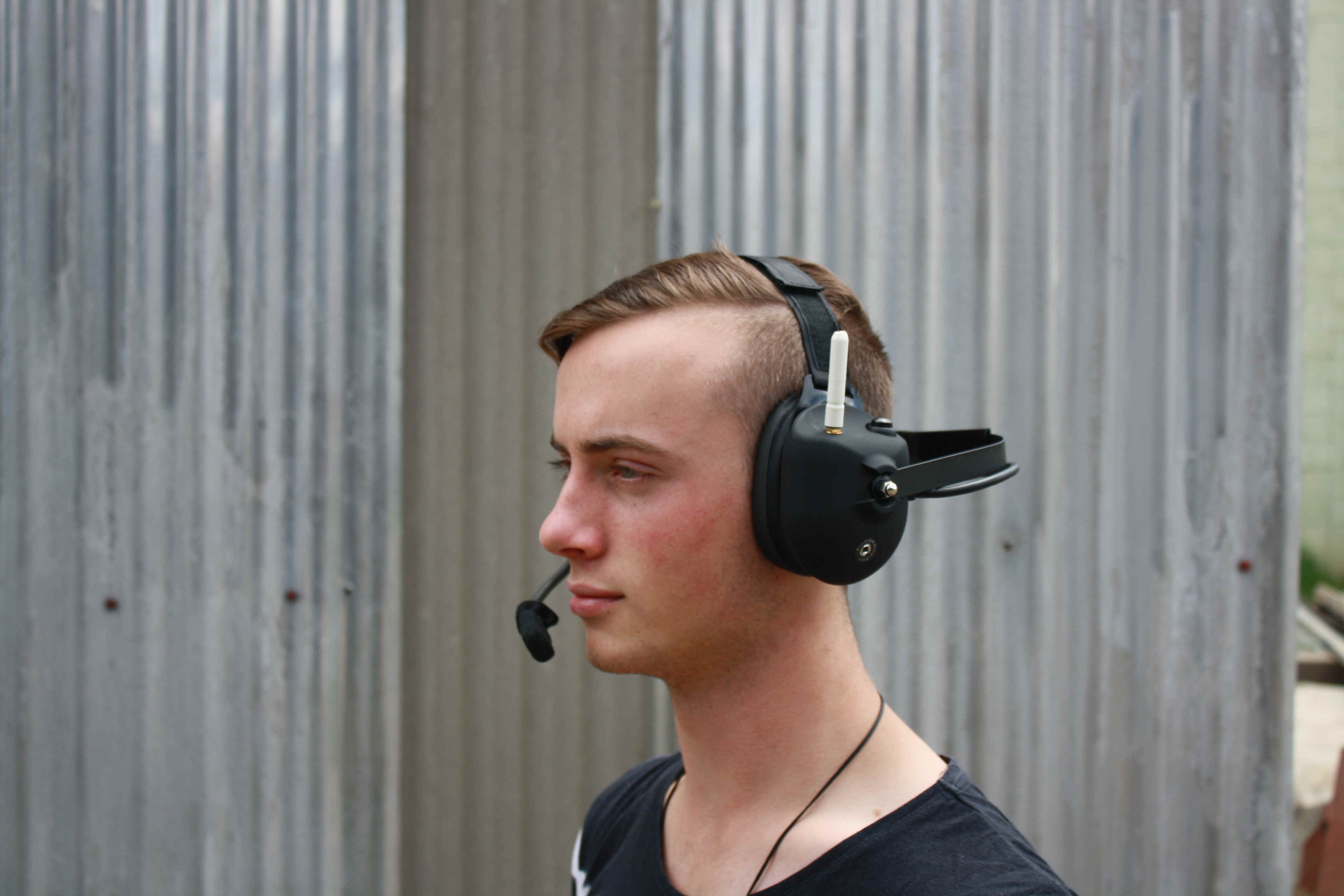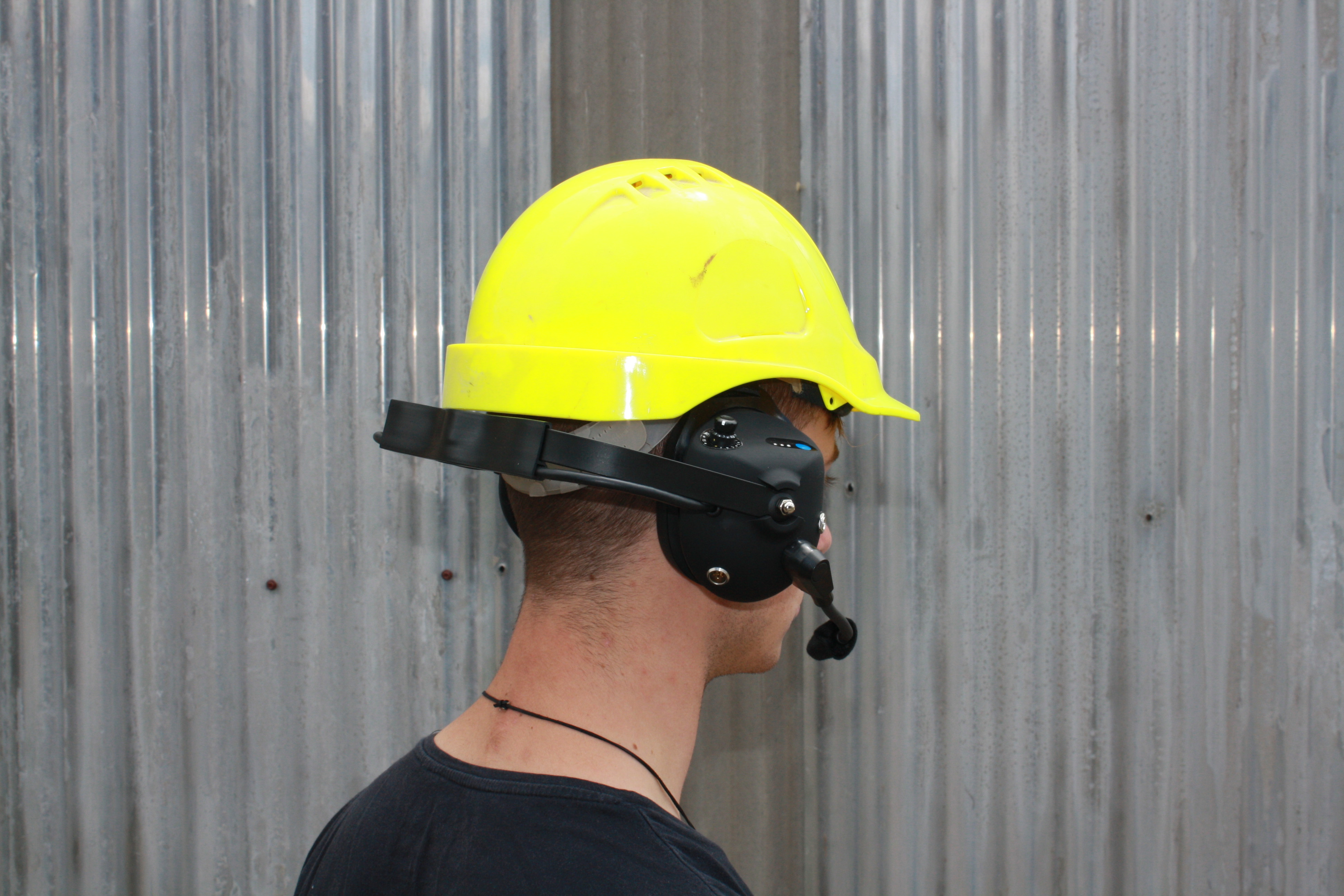 The headset is easy to use with a minimum of controls, centric channel and off-on volume control , on top of the right earcup and the large PTT button placed on top of the Left side earcup. The behind the head spring band and over the head adjustable Velcro strap enables the use of a hardhat simultaneously. There is more than adequate received volume and can be easily heard while wearing foam earplugs for hearing protection ,and the flexible goose neck mounting microphone allows optimum placement of the microphone directly in front of the mouth .The Antenna is screwed onto a SMA connector such that if you wish you could use an external antenna perhaps mounted on the outside of a vehicle to improve range and general signal strength . The slow blinking yellow light is to show the user the headset is still switched on if it is removed by the user and left on a table top etc .. A concentric USB voltage level charging socket is found just above the microphone base . this is a 5 v DC only connection !
On the microphone side earcup can be seen a multipin sockect this is for an optional additional connction of the headset to an external PTT button worn on the finger or chest or a radio connection harness if you wish to share the headset with another handheld transceiver ( brand specific due to external plugs and sockets in the additional radio ) .
The ear cups provide a moderate amount of acoustic isolation however the headset has NOT BEEN certified as a compliant device for protection of the users hearing , In some situations but not all , the wearer may have to use additional compliant hearing protection that meets appropriate Occupational Health and Safety requirement such as ear plugs .\
There will of course be many situations where OHS hearing protection is not required .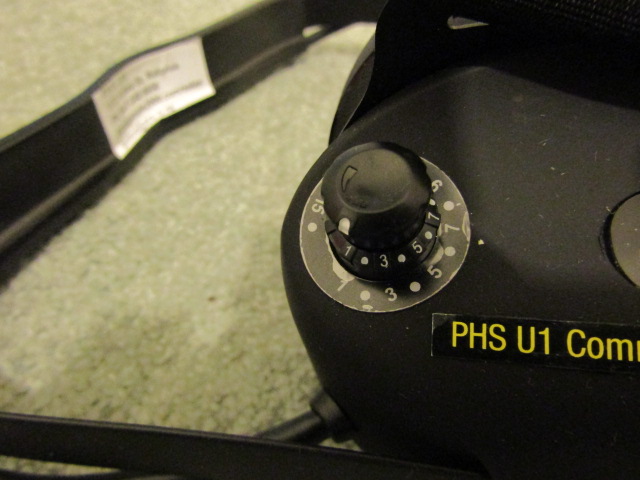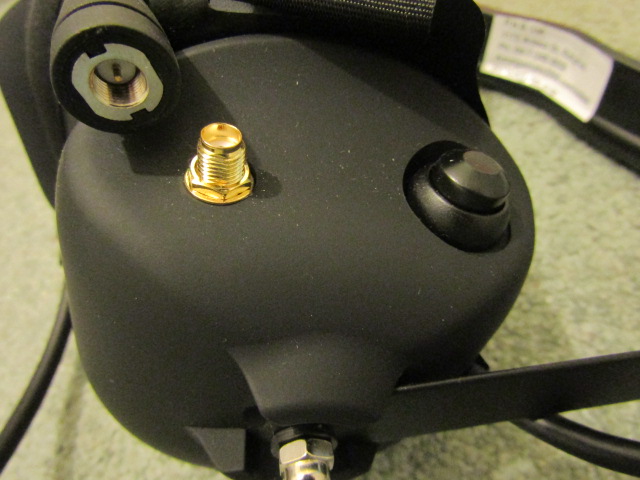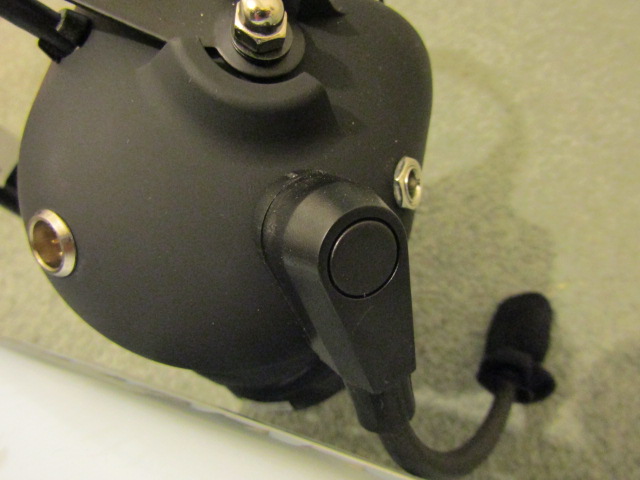 Vol -ON/OFF and 16 Ch selector SMA ant PTT button optional audio cables 5v DC charger socket
There is also available programing software and a suitable USB programming cable which runs under windows XP and 7 , theses additional intems will only be supplied to authentic radio communication companies who purchase the U1 , the programming software and associated cable sells for $100 plus gst .Programming is performed by connecting the 3.5mm jack of the prolific"" based USB cable , to the programming socket in the left hand earcup below the antenna when turned on and the software is run the the computer

HERE ARE MY EXACT STEPS
install prolific software drivers for USB programming cable from supplied cd
made folder called regal
downloaded zip Programming attachment from cd or email
double clicked om zip file and extracted to regal folder
double clicked on setup exe file programme self loaded creating icon
plugged switched on radio headset into usb cable, plugged usb into laptop runiing authentic copy of win7 professional
ran rg100 program coms error so reselected on SERIAL PORT correct com port you can check the port from control panel systems comms ports lpt
clicked on READ RADIO INFORMATION to check if there is connection
information provided : rg100st , headset, 137-180 MHZ ???????? V0.95
clicked on computer icon up top READ DATA FROM RADIO ........got blue bar graph going from left to right at top of screen
click on ZONE 1 CHANNELS I can now see channels for transmit and receive and alter these if I wish
click on GLOBAL RADIO OPTIONS I can read and change data in here if I wish to .. namely SQUELCH THRESHOLD SETTINGS

click on GLOBAL CONVENTIONAL OPTIONS where i can change VOX setting 0 for OFF (no VOX) 1-8 for VOX ON and sensitivity
click on GLOBAL TRUNKING OPTIONS ( not used for WH-43)??
click on KEY AND DISPLAY OPTIONS ( not used for WH-43)??
click on SPEED DIAL No. ( not used for WH-43)??
clicked on RADIO icon up top WRITING TO RADIO ........got blue bar graph going from left to right at top of screen
there are a number of important aspects of using the software which we have discovered and where not told of .

1,. On no account completely empty the frequency database and re enter your wanted frequenciies .add the channels that you wish along with other functions then when finished delete the unwanted data before programming the radio with your wanted frequencies and functions
2. The radio is programmed with a minimum step size of 5 Khz initially we tried programming in smaller steps Khz and sub kilohertz increments only to find on transmit , using a frequency counter ,that the resulting transmit frequency and the desired programmed frequency did not co relate , if you do program the radios please check transmit and receive frequencies with test equipment to make sure you are satisfied the radios are infact on the correct frequency and not incur the wrath of the Radio frequency service who now take a pecunary view of misdeminors
There are a number of important programming aspect that sit "behind" the software that are somewhat connected to the database and if the database is emptied these commands will be lost and the headset radio will malfunction ie if you push the blue mute open button the mute will not open and the radio will lock up and emit 3 beeps and cease to function
we did not write the software and hence have no direct control over it . It took us a lot of trial and error to find this out and provide you follow these simple rules the radios will perform faultlessly
We are about to release a hard hat version whose earcup clip to the hard hat and also a NBFM Radio that works in the VHF range 136-174 MHz

R-NZ client id 133392

Price at NZ$500 plus gst per radio headset . ( sorry increase in productions cost shipping and imort duties) good discount for Bulk purchases !!!

Contact Mike Pinfold

PHS Ltd, 1172 Arawa St, CBD, Rotorua 3010. New Zealand . 64-7-3488850
021 985958 email Pinfold@xtra.co.nz
Return to Contents page